Rewrite any text, any Word
A reliable rewording tool uses sophisticated technology and a combination of suggestions to generate unique content 10x faster by making smart decisions on your behalf. Here is how to use it, start typing or copy-paste text in the input box and click the start re-writing button.
Our website's tool is designed to reword different types of content, including sentences, paragraphs, and even long-form content such as blog posts, articles, and essays. You can use it to simplify the writing and make it more explicit, create quality content, or avoid plagiarism checkers if you want to use the same content again.
We Have an accurate built-in thesaurus
Where words find their perfect expression
Word Explorer is a built-in option that allows you to change words and phrases with their suitable synonyms instantly. making your reword process seamless and efficient.
To use this feature, click on any word you'd like to replace. Then, a list of synonym suggestions will display. Go through your entire text and change as many words as you like. It's free.
Access advanced Rewording features at no Cost ⭐
A user-friendly paraphrasing interface, equipped with numerous exclusive features that will help non-native speakers and professionals produce compelling content effortlessly. With four writing styles and other amazing built-in options, the reworder will rephrase your sentence and paragraph, shorten or expand any text on the go, making it the best rewording tool on the web.
The reworder provides 4 free modes that will help you write more efficiently
Introducing the 4 writing modes
Create high-quality content that is plagiarism-free using any of the reworder's mode, ensuring tone, and style align perfectly with your intent.
| | |
| --- | --- |
| 🔄 Standard | Uses synonyms to generate a new copy. |
| 🤖 Formal | Rewrites text to produce human-like content that is free of grammatical errors. |
| 💡 Expander | Expands your idea with more information and details. |
| ✍️ Shorten | Summarizes your lengthy text to its main points. |
key features of our reworder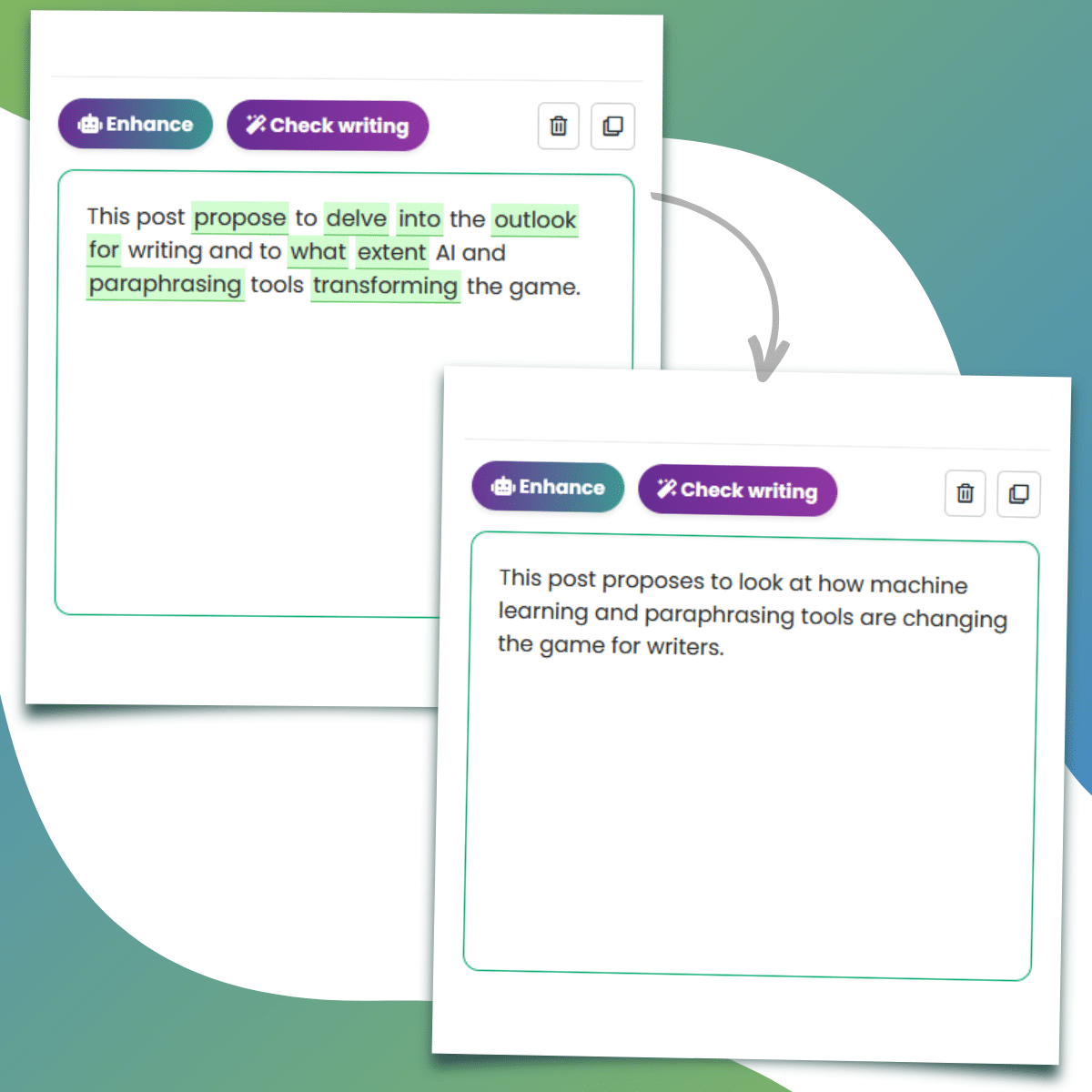 At the heart of our algorithm lies the amazing "Enhance" feature, powered by GPT-3 technology. With one click you can rephrase text multiple times until you achieve the perfect result. It beats traditional paraphrasing, as it optimizes the readability, and fluency of your paraphrase.
Creating plagiarism-free content for your audience goes beyond paraphrasing—it involves ensuring flawless grammar and punctuation. Our "Check Writing" built-in tool helps you find and fix spelling and punctuation mistakes. This feature makes your proofreading easier and ensures the final output is both well-written and well-structured.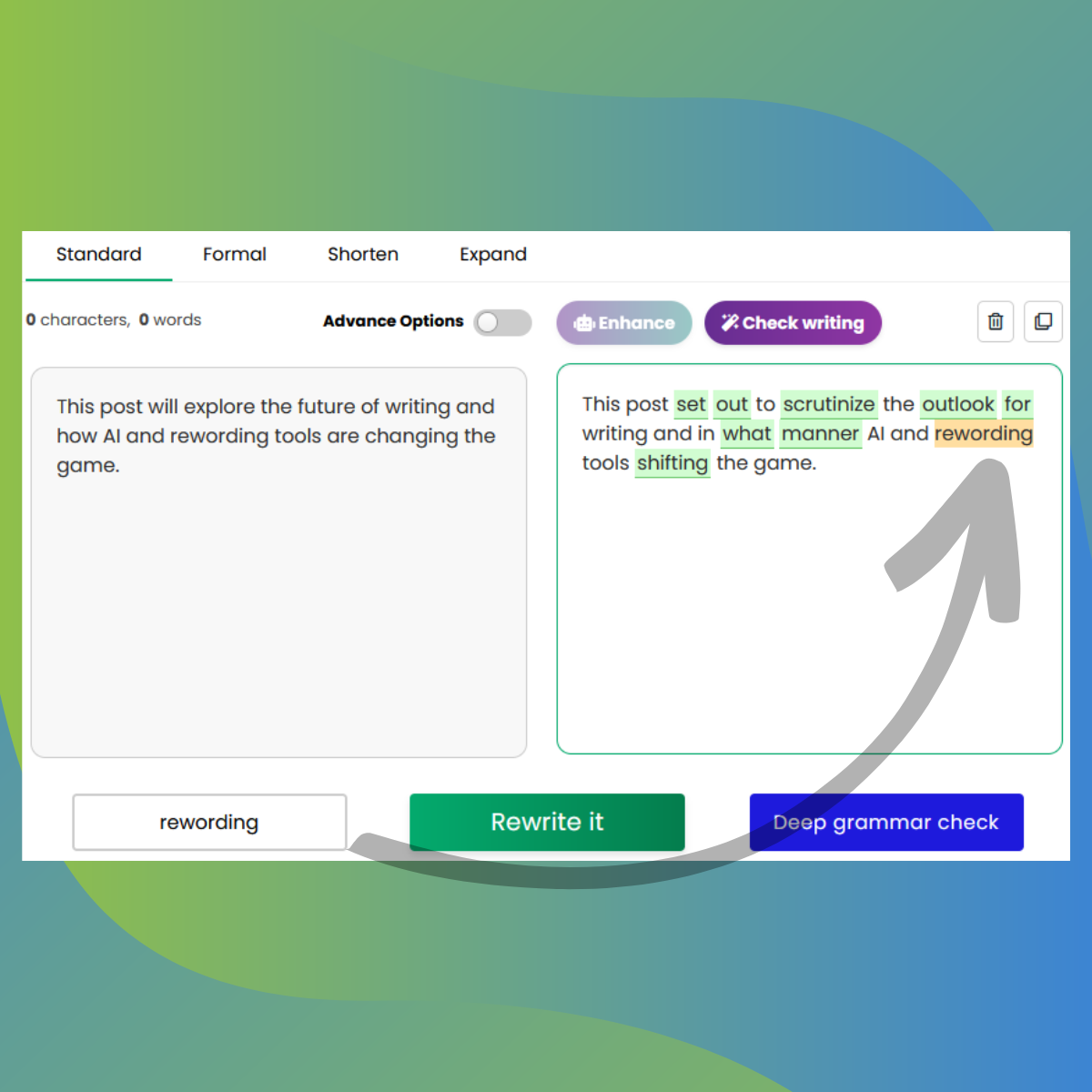 have you ever encountered situations where certain terms disrupt the flow or meaning of your content? Our cutting-edge technology, equipped with the 'Ignore Words' feature, grants you the power to exclude specific terms during the text processing phase. By seamlessly ignoring these unwanted terms.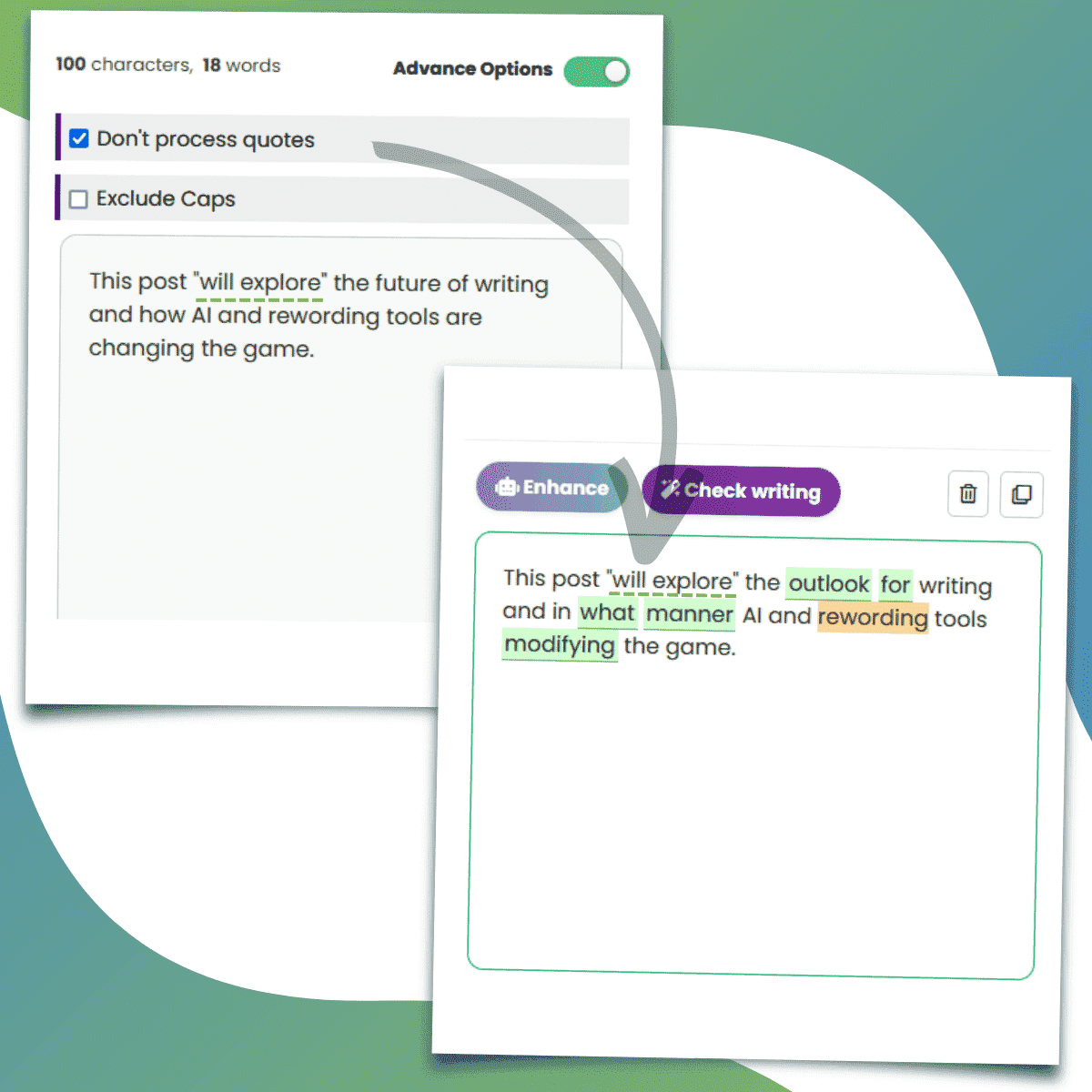 Quotation marks usually enclose exact text that should stay as it is. Our tool has a 'Don't Change Quotes' feature that understands the importance of keeping things authentic. By not changing the text inside quotation marks, you can be sure that direct quotes, citations, and attributions stay the same, preserving your content's original meaning.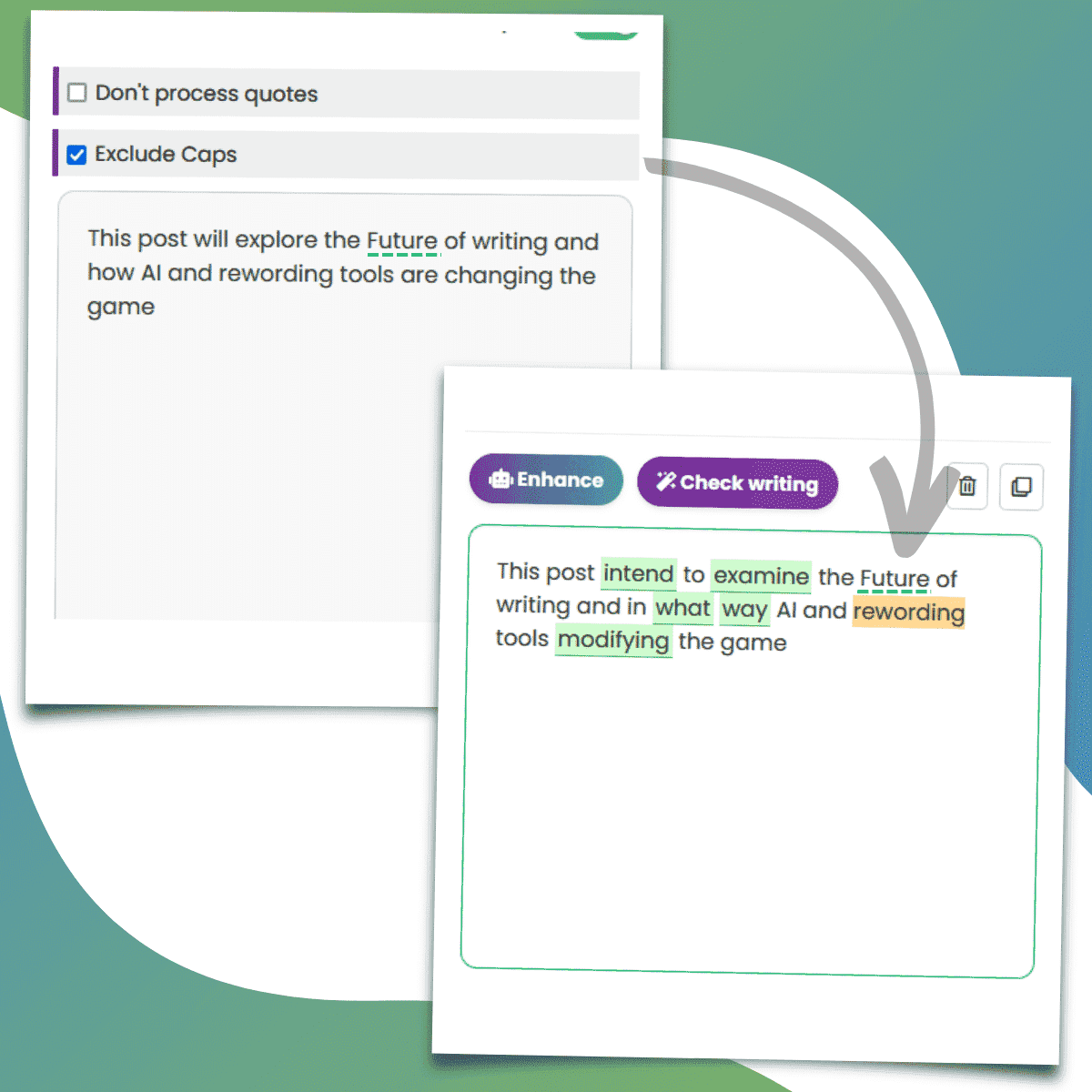 Consistency in writing is key. With the "Exclude Capitalized Words" feature, you have the ability to retain specific words written in capital letters in their original form. This feature proves invaluable when dealing with acronyms, proper nouns, or terms that should maintain their capitalized identity for precision.
Its significance for bloggers:
A recommended approach to marketing someone's business online is blogging.
Regularly updating content is beneficial for Search Engine Optimization (SEO), helping to keep the website fresh and rank among the best on search engines. Using our AI-powered reworder generator to efficiently update your posts, ensuring its relevance and engagement.
Generate similar Ideas in different words:
Many students and writers may need help in expressing themselves differently. Some may unintentionally repeat large portions of the original text or change the meaning of it. To prevent these issues, it's advisable to use a website that helps with rewording.
The Text spinner places several options for the writer to decide from and improves the overall writing tone and overrides the plagiarism checker.
Why should you proofread the rewritten content?
To rewrite sentences means you restate what it has already said or written in your own unique words. It is used extensively within academic writing when you want to refer to what others have said without resorting to using a direct quotation.
While using a free tool to generate content can be a quick solution, it may not always provide you with the quality of articles that you require. First, it doesn't change the actual structure of the writing. And second, it may have problems with word selection.
Article rewriter tools may make errors when spinning text, so it's important to review the generated copy to ensure it remains readable and reflects the original meaning.
Rephrasing a paragraph requires a full understanding of the original writing. It's not about swapping the words for synonyms, as many will do. Sometimes using the wrong synonym can change the whole meaning of a sentence. Therefore, it is always best to have those important papers edited and proofread.
3 Steps to assure an effective paraphrasing
Using a paraphrasing tool instead of hiring an experienced writer can be helpful, especially if you're in a rush or not a native speaker. To achieve an effective paraphrase, there are several language tips and rules that you should adhere to, and here are some of them.
Read the original content carefully and understand it.
Don't change the meaning of the text.
Always use a proofreading tool like Grammarly to enhance grammar and therefore text readability.
"A paraphrase must provide the same information as the original and be written in your own word choice and sentence structure." kibin.com.