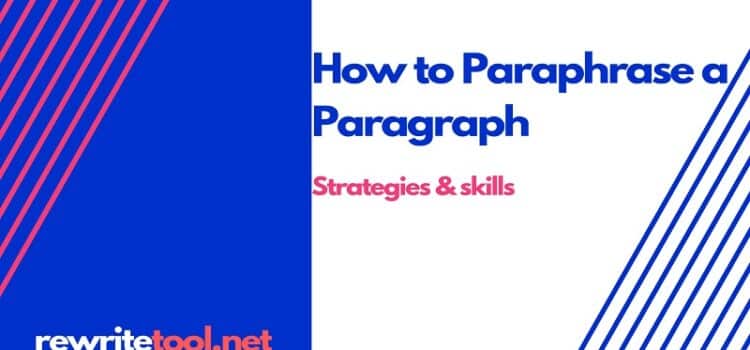 Paraphrasing is a helpful and reliable language tool whenever you are looking forward to creating new content without having many ideas of your own. Paraphrasing comes from the Greek word 'paraphrasis' which means "to express in your own words". A paraphrase typically clarifies or explains the text that is already present. It can be quite useful for students as well as people who are looking forward to rebranding themselves in their jobs. Media creation is a job that is heavily reliant on paraphrasing. Thus today we are going to be having a look at how one can paraphrase a paragraph correctly.
STRATEGIES TO DEVELOP PARAPHRASING SKILLS
There are a few strategies which can help you with your paraphrasing quickly including using a rewrite tool online. Even though paraphrasing is a unique acquired skill and these steps can help you get better at it every time you try your luck with it –
Reading the text that you wish to paraphrase to its last words beforehand can help you dramatically.
Having a dictionary by your side is a great option to easily look up meanings and synonyms of words you don't seem to understand.
Once you start paraphrasing keep on re-reading the text or skim it instead if you are confident with yourself.
Pay attention to the first sentence of a paragraph because this is where usually the entirety of the article is introduced along with some unique keywords.
While writing the paraphrased text, don't rely entirely on sophisticated vocabulary instead try to restate the original text using your own words verbally.
Checking the original text after you have done your paraphrasing is necessary to look out for specific quotes that you might have used from the original text, which could not be restated in your own words.
PARAPHRASING A PARAGRAPH
In order to paraphrase a paragraph, you need to understand the very basics of the language tool. We have already talked about all the basics in our previous articles the links to which can be found right here.
To paraphrase you have to essentially find the meaning behind the passage that you are reading. This involves finding out the main arguments are the highlights that are happening in the paragraph. This would help you to better understand the situation that has been tried to be portrayed within the paragraph.
Paraphrasing should be started by explaining small unique fragments from the original paragraph. The entirety of the new text should be built on the premise that is portrayed in the first few lines.
The new paraphrased text should be completely different from the original paragraph but should necessarily carry the same meaning that the original author was trying to portray.
Try to identify keywords from the paragraph within its first few lines while trying to paraphrase a paragraph. These words are pretty much what help to capture the entire essence of the paragraph.
Once you have the keywords figured out, you can explain the rest of the story in your own words. In case you can't change the words in the passage then you can also cite sources from the actual paragraph in the form of quotations.
It should be kept in mind that you don't necessarily have to change every word of the paragraph to paraphrase your text, but instead, it is the inner meaning of the passage that should be preserved.
It is also necessary to understand that there are multiple ways to paraphrase a single paragraph. As long as you let your imagination run free, you would be able to do the same quickly.
How to Paraphrase a Paragraph: Strategies & skills